Petroleum Labs
Auto Lab 1500 Multi-purpose Test System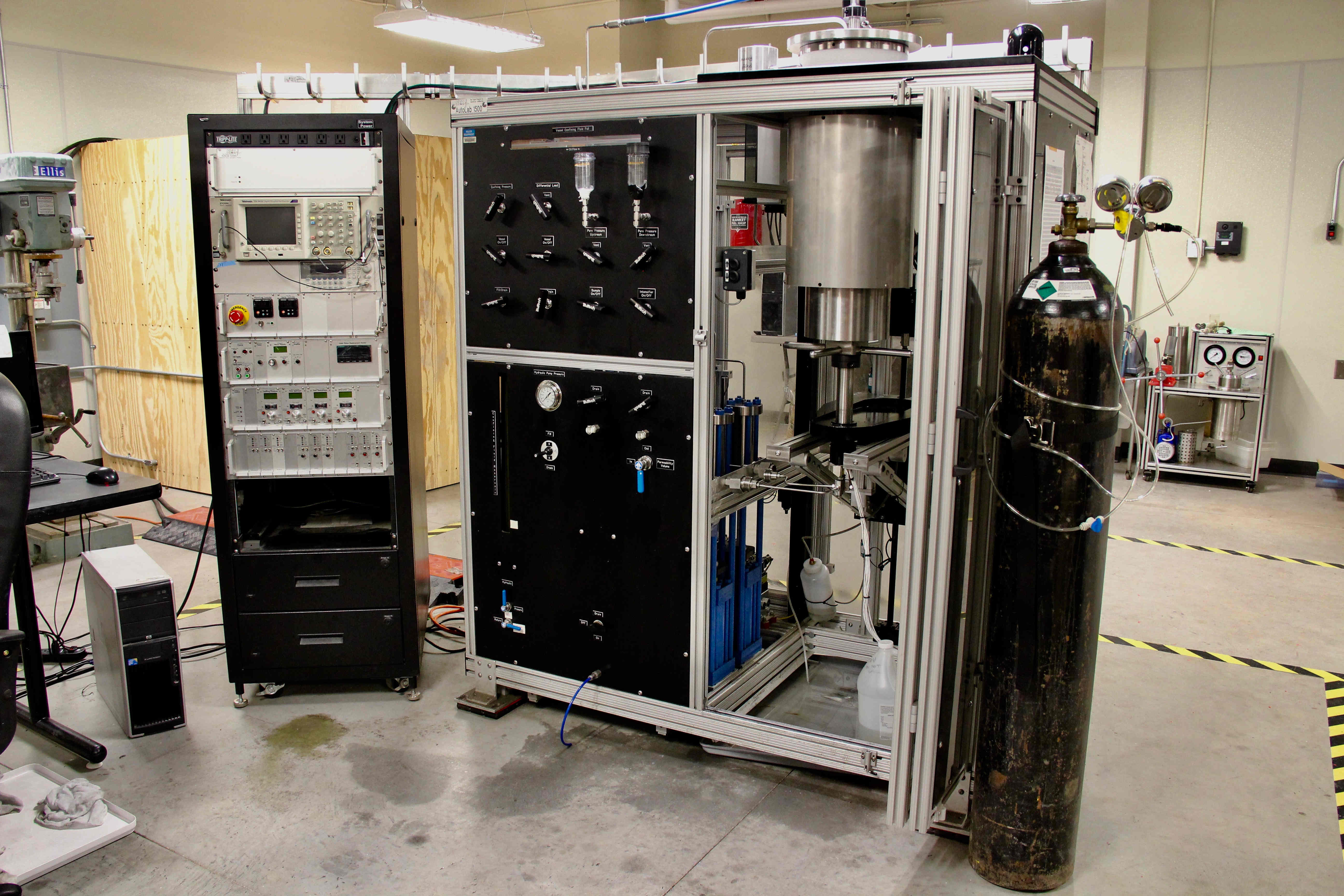 The Auto Lab 1500 multi-purpose test system is developed by New England Research. The Auto lab 1500 is a triaxial rock testing system that can perform standard rock mechanic experiments, and measure different mechanical and petrophysical properties of rocks under reservoir pressure and temperature. The system can perform integrated measurements and analysis work, with pore pressures up to 100 MPa, confining pressures to 200 MPa, and temperatures to 121°C. The system consists of a pressure vessel, hydraulic pumps, an electronics console, and controlling software. It can conduct various destructive and non-destructive tests, including permeability, Biot, velocity, resistivity test, deformation and strength test. The apparatus can also measure and calculate parameters such as bulk modulus, shear modulus, Young's modulus, Poisson's ratio, strength, bulk compressibility, permeability, resistivity, P- and S- wave velocities.
The data generated from P- and S- wave velocities can characterize acoustic properties of the sample and generate dynamic mechanical properties to be compared with filed data (wireline log data) for dry samples and when different type of fluids is injected through the sample. This device can generate a full stress-strain curve that will be interpreted to extract geomechanics parameters and by crushing the sample, failure criterion such as Mohr-Coulomb data can be recorded which is an important data for deformation and fracturing analysis.
Uniaxial Compressive Strength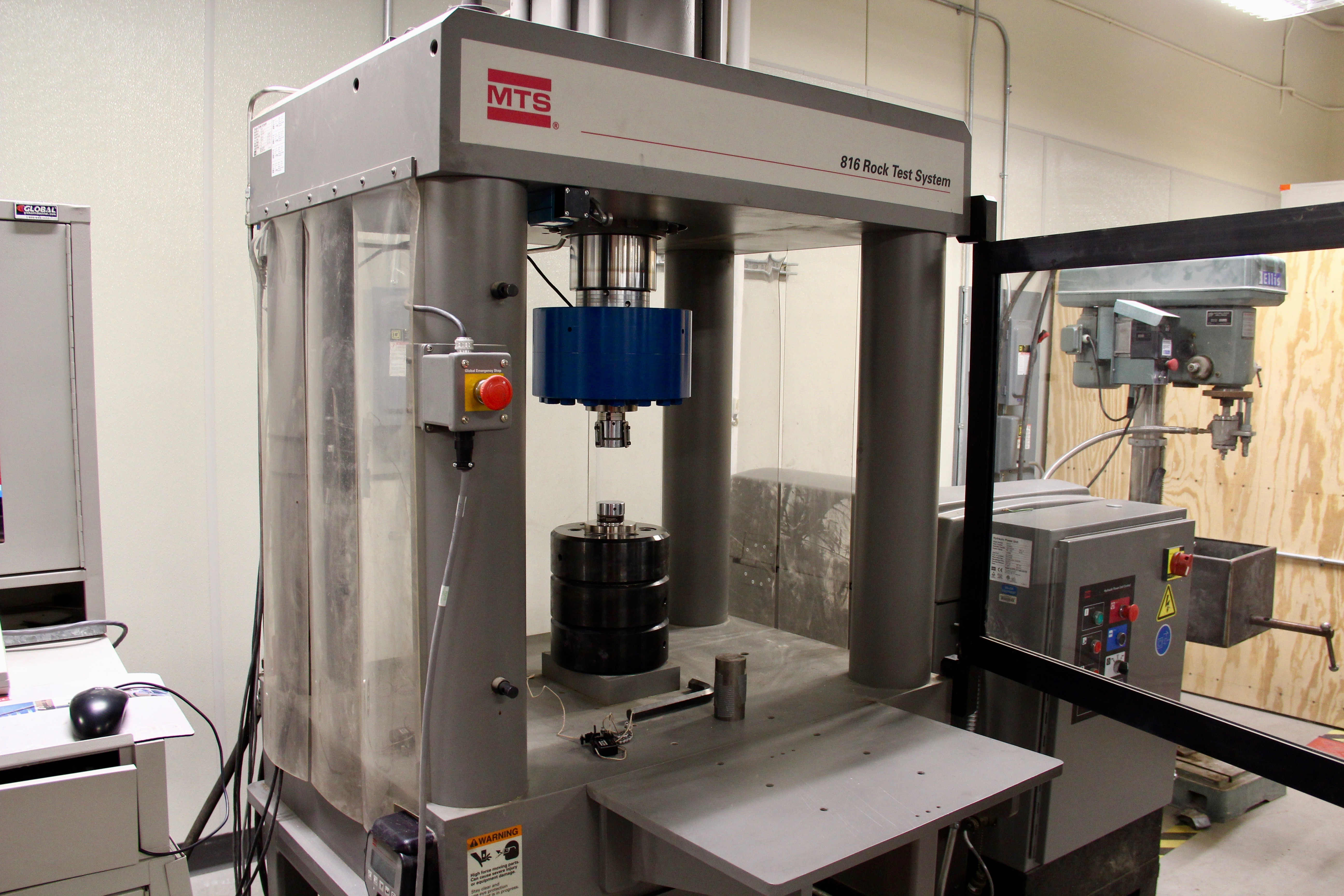 Understanding the Uniaxial Compressive Strength (UCS) of the rocks is crucial for geomechanical modeling. This device is equipped with a high-force servo-hydraulic testing system which is essential for geomechanics investigations to monitor stress as a function of deformation. There is a highly stiff load frame assembly which includes a fixed crosshead mounted on two rectangular columns bolted to the base plate, creating an extremely rigid yet free-standing frame. Integrated in the base plate is a single-ended, double-acting actuator with a 100 mm (4 in.) stroke for tests requiring large displacements. The frame assembly includes two feedback transducers, a differential pressure (ΔP) transducer and an internal linear variable differential transformer (LVDT) that provides control and measurement of actuator displacement. This equipment is particularly built for testing rock samples with two different size and diameter. The UCS and the precise measurement of lateral and axial deformation recorded by the LVDT transducers mounted on the sample will be used to estimate the rock mechanical properties behavior of the rock units.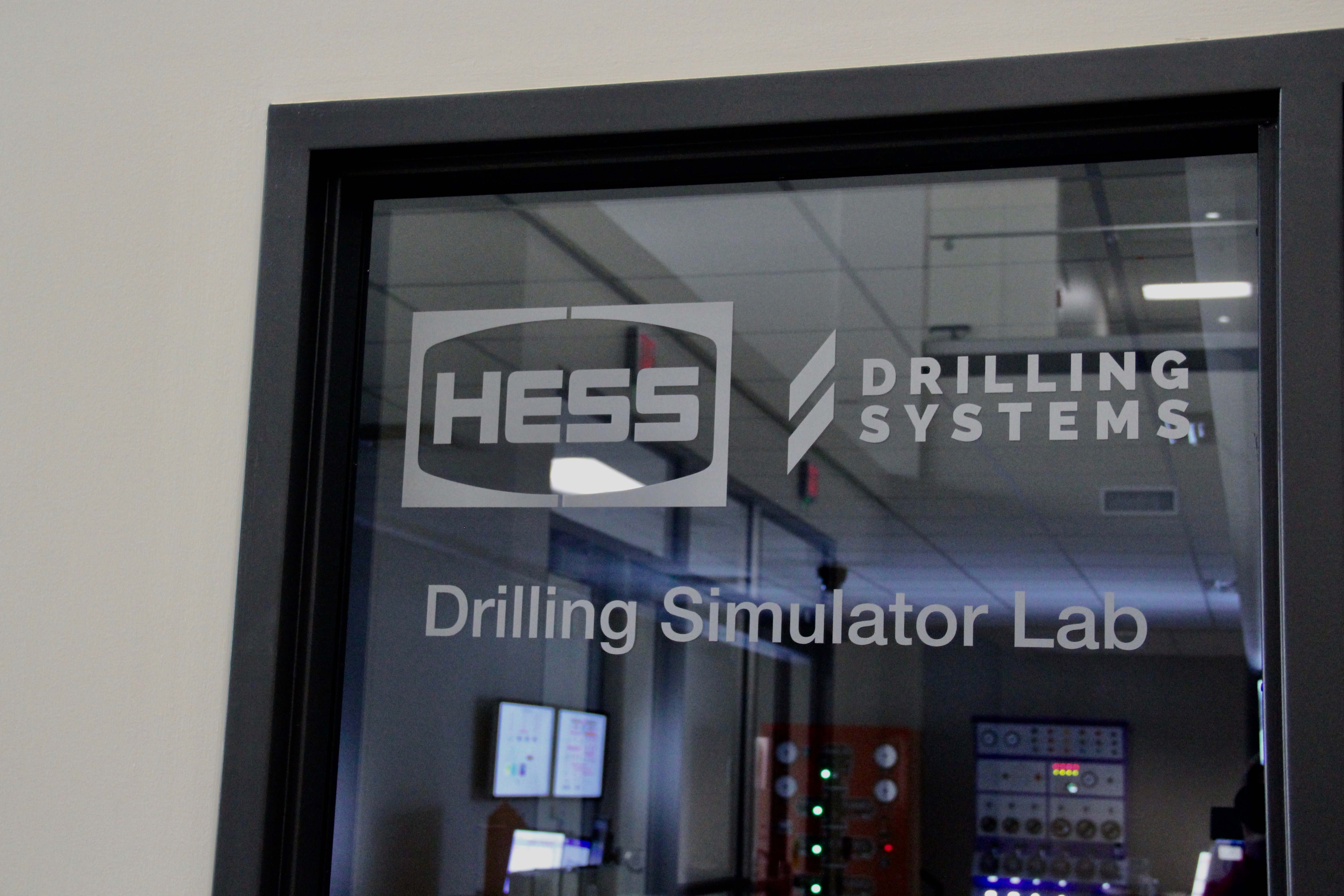 The University of North Dakota has just installed its first full-scale drilling and well control simulator in its new pioneering Collaborative Energy Complex (CEC), home to the UND Department of Petroleum Engineering and Institute for Energy Studies. The simulator provided by global simulator technology specialists Drilling Systems, will enable them to hugely expand their teaching capabilities in the field of oil and gas drilling operations and well control, a standard of knowledge and experience now expected of new students entering the industry.
Their new DrillSIM-5000 'conventional' drilling simulator replicates a real drill-floor environment in exacting detail, providing a real-life experience for students, researchers and professionals alike. The simulator allows the instructor team to set up any drilling and well control scenario based on actual events experienced in the field. Learning within such a real-world environment will not only allow the students to experience and learn how to carry out day-to-day drilling operations but also how to react and control stressful and potentially hazardous situations in complete safety. Training on full-scale simulators is a practice well known to many industries including commercial aviation, military, motorsports and other industries operating in potentially hazardous situations and has been shown to be a much more effective tool for knowledge retention and effective long-term skills training than traditional study methods.
'This an excellent new training asset for us to have on site' Vamegh Rasouli, Department Chair states, 'it will now allow us to provide a very real true-to-life training experience for all of our students and will give us the additional benefit in the ability to challenge the students' knowledge and skills under real-world situations in stressful and potentially hazardous scenarios in a way we couldn't before. 'UND and the CEC can now be confident that the students we send out into the field as they start their careers will be of the very highest standard available today'.
In late 2016 UND dedicated the new Collaborative Energy Complex (CEC) on its Grand Forks campus. The CEC is home to the UND Department of Petroleum Engineering and the Institute for Energy Studies. The complex also features cutting-edge labs, active-learning classrooms and space for interdisciplinary collaboration among faculty, students and professionals in the energy industry along with the Solberg Student Success Center and the Big Ideas Gym.
Lab spaces for the full-scale Drilling Simulator and the Virtual Reality (VR) Labs in the CEC are in place through an initial generous donation from Hess Corporation and will be operational this year.
The CFS series flawlessly performs single and multiphase core flood studies at reservoir-representative conditions of temperature and pressure. Notably the device allows the evaluation of critical parameters such as brine sensitivity, return permeability, critical flow velocity and various secondary and tertiary EOR methods, including water flooding, polymer injection, ASP injection, miscible and immiscible gas flooding, acid treatments and microbial flooding. Relative permeabilities at irreducible water saturation, residual oil saturation, displacement efficiency and incremental oil recovery after implementation of the EOR process, can be determined. The computer controlled system is provided with a unique software that allows both manual and automated operation where all key components can be controlled including pumps, valves, video capturing and data acquisition. A test sequencer also permits automated elaborate test sequences. The core holder, air operated valves, produced fluid separator if selected and necessary plumbing are mounted in an isothermal convective air bath that has been designed to provide easy access to all main components. 
The first virtual reality training lab entirely dedicated to Oil and Gas drilling training simulation is located in the Collaborative Energy Complex (CEC), a part of UND College of Engineering and Mines.
The Hess Virtual Reality Lab provides detailed, interactive virtual models of the state of the art drilling platforms currently in operation in North Dakota and around the country. As an introduction to the techniques and skills needed to operate a drilling platform, the VR lab enables engineers to train on the use of drilling machinery, including practice with complex drilling processes in a risk-free virtual environment.
The VR training lab will be accessible from anywhere in the world, supporting close collaboration between the University and participants from industry in a shared virtual space where they can review machinery and perform simulated drilling operations. The Hess Virtual Reality Lab is part of the College of Engineering and Mines and the Department of Petroleum Engineering.
"The launch of this VR training lab is a great resource for students to learn complex operations in a simplified but practical sense and gain hands-on experiences in a safe environment," states Dr. Vamegh Rasouli, the Chair of the Petroleum Engineering Department.
The VR training lab has been developed and installed by Qbit Technologies Inc., a Palo Alto startup specializing in VR solutions for training and business applications. As with other solutions developed by Qbit, the UND VR lab has been developed using a free, open source platform for the creation of shared virtual reality simulations.
"VR will democratize the use of simulation for training, and this project is a perfect example of using our platform and VR to rapidly develop a training solution for safety in the Oil and Gas industry," says Philip Rosedale, CEO of High Fidelity.
The hardware used comprises HTC Vive headsets, hand controllers and haptic gloves in the near future. We are also creating a VR cave space, where learners can use special PC backpacks and move freely in the simulation environment, free from wires stopping their movements.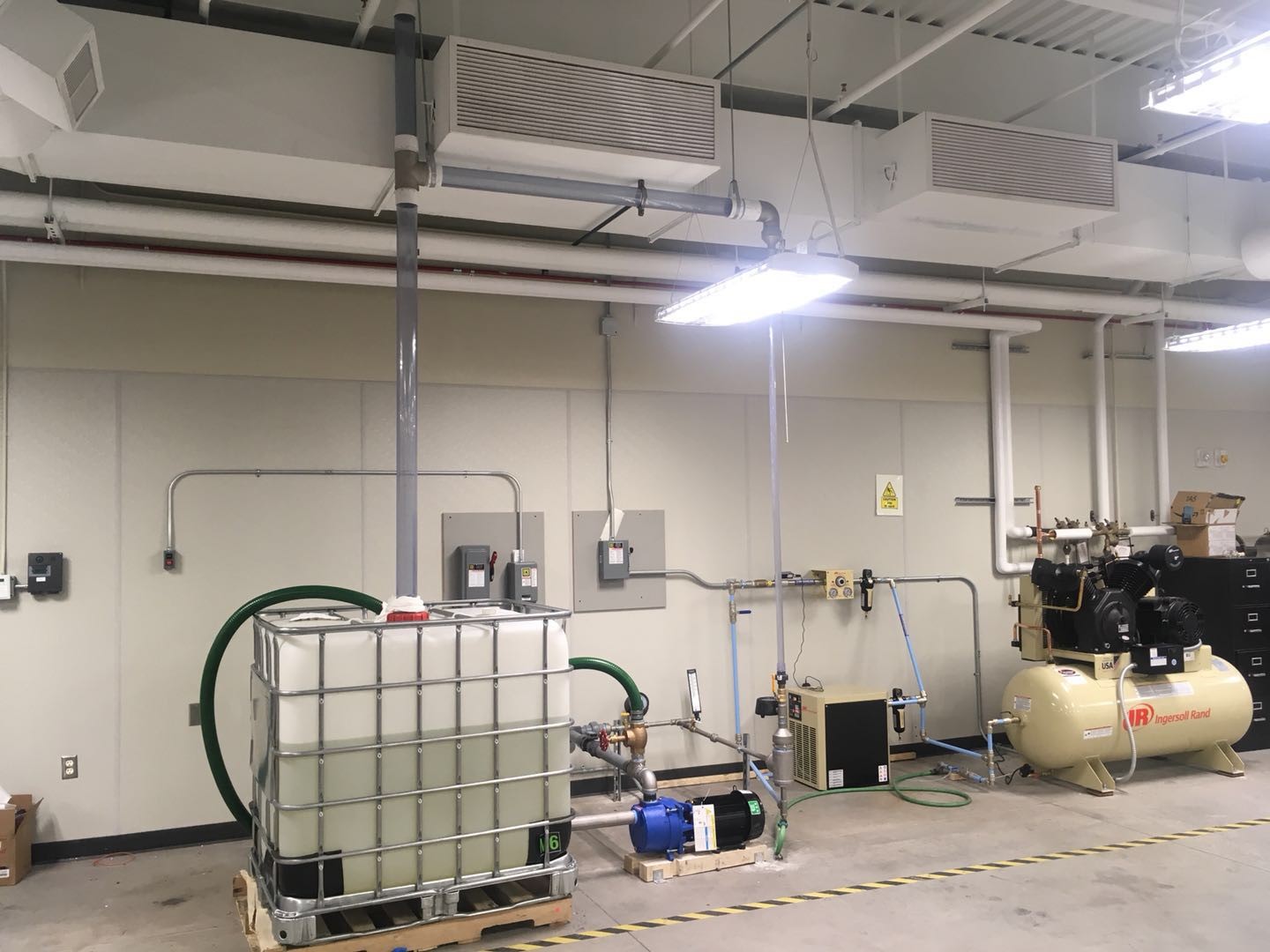 The MFL unit was built to study the multi-phase transportation in vertical upwards, vertical downwards, and horizontal pipes. With different water and air superficial velocity combination, different type of flow regimes (e.g. bubble flow, slug flow, churn flow, annular flow) can be simulated in the test tube. The unit is equipped with the instruments to measure the pressure, temperature and flow rate. The MFL can simulate the oil and gas transportations from inside the wellbore to the surface. The test tube is made of 6ft long and 1inch thick clear PVC, while the tube can be replaced with other sizes as needed. The data acquisition system is designed in order to collect and plot various types of data and curves in real time for monitoring and analysis.
The fluid friction apparatus allows detailed studies of flow, flow measurement methods and pressure losses in the blockage and leakage in the series or parallel pipes. The hydraulic bench supplies the circuits with a controlled and measured flow of water. To measure pressure loss through the blockage and leakage, pressure sensors and flowmeters which partner with NI LabVIEW are used. Several pipe sections are of different locations, length and size of blockage or various location of leakage points to show how this affects pressure loss. Not only the equipment can be used in research, but also be used as the teaching aid. The piezometer set includes a hand-pump can be applied to measure pressure loss across each part in the flow loop such as roughened pipes and fittings. The Venturi meter and orifice meter are used for measuring flow rate. Moreover, the velocity profile can be measured via the traversing Pitot tube.
The Slurry Loop Unit was built to study the cuttings transportation in vertical, horizontal and deviated annulus space. The equipment allows investigating the effect of the cuttings geometry, drilling mud rheological properties and flow rate on different types of flow profiles that may form in the annulus including: homogenous or heterogeneous suspension, moving and stationary beds, dune and boycott movements. The unit is equipped with the different ultra-precision instruments to measure the fluid properties (viscosity and density), fluid pressure drops, temperature and flow rate in order to obtain accurate and high quality data for analysis and interpretation. The annulus, 15ft long, is made up of 5" drill pipe and 8" clear PVC tube but can modify the unit to use other annulus sizes. The data acquisition system allows collecting and plotting all the data real time for monitoring and analysis.