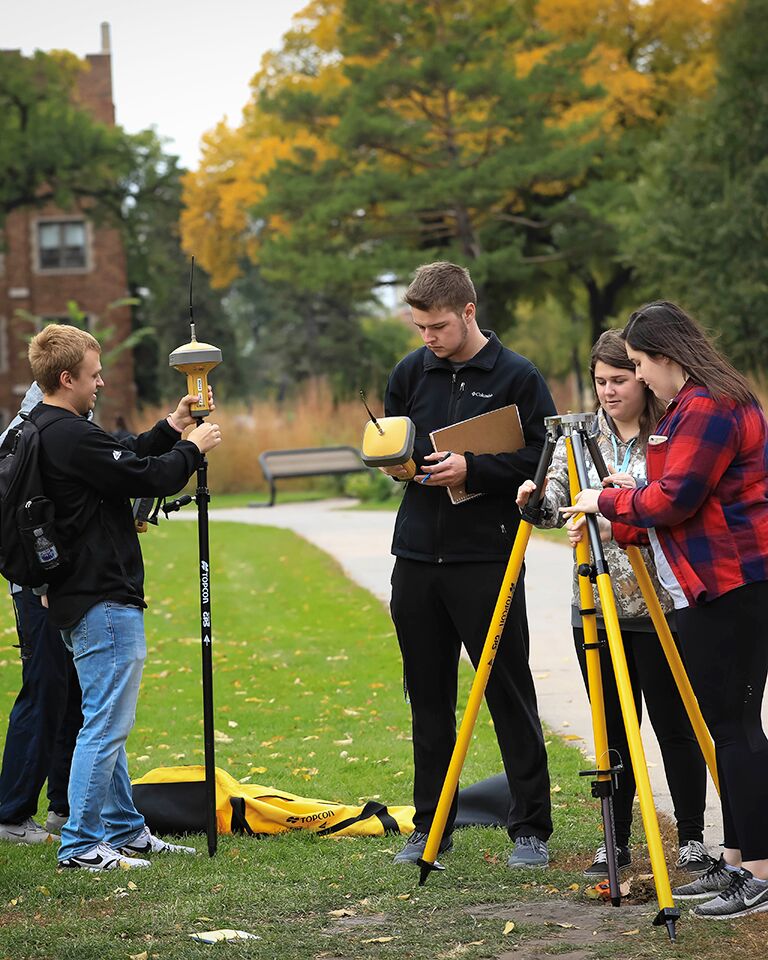 Civil Engineering
Prepare yourself for work in range of engineering consulting firms, industries and governmental agencies.
The civil engineering program emphasizes the areas of environmental engineering, geotechnical engineering, structural engineering, and water resources engineering. The required curriculum includes the fundamentals for each of these areas and provides an opportunity for additional learning experiences with technical electives and a major design experience.
Easy Entry into the Program
Students are considered a part of our program from the time they join UND with a declared major in civil engineering. There are no special admission requirements beyond those of the University. We assign a personal faculty advisor to all declared majors to help them set up their academic schedule. We continue to work with the students on a personal basis throughout their stay at UND, helping guide them through our program and the transition to their first job or graduate school.
Visit UND Civil Engineering
When you schedule a visit to UND, please request a tour of the engineering school. Faculty will visit with you, give you a tour of project-based student learning lab areas and unique presentations and hands-on engineering based learning activities, and provide you with information about our programs and scholarships.
Scholarships
The College of Engineering & Mines and Department of Civil Engineering have scholarships for incoming freshmen, returning sophomores and new transfers in any engineering major. Visit UND's Scholarship Central database to find opportunities and apply using one application.
Student Organization
Build your career by joining the ASCE (American Society of Civil Engineers). When you join ASCE, you become part of the largest professional civil engineering network in the world. As a part of our community, you have access to our industry's most comprehensive communication, networking, and learning resources.
Our Approach
The mission of the civil engineering program at the University of North Dakota is to provide students with a well-rounded civil engineering education.
Teamwork, problem solving, and design exercises are interwoven throughout the curriculum; culminating in a two-semester, capstone design project during the senior year. Several courses include laboratories which develop experimental, teamwork, and communication skills. Technical reports and/or presentations required in several courses develop knowledge of contemporary issues and life-long learning skills, as well as communication skills. Relevant computer software is used throughout the curriculum. Students are strongly encouraged to prepare for a professional license by taking the national Fundamentals of Engineering (FE) exam prior to graduation. Students who excel academically are also well qualified to pursue graduate work in civil engineering or a related field.
Educational Objectives
Graduates practice civil engineering, using knowledge and skills for problem analysis and solving, in a wide range of professional settings including consulting firms, government agencies and industries.
Graduates work mainly in the areas of engineering design, project management, construction, contract administration, technical support, and research.
Most graduates continue learning by participating in job-related training activities, pursuing a professional engineering license, and/or attending graduate school.
Most graduates contribute to the economic development of North Dakota and the surrounding region.